Offload Your Domestic Cleaning Duties Today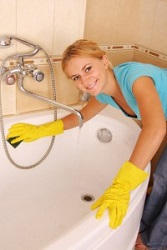 Domestic cleaning can be one of the most time-consuming jobs that you have to do, which when time is tight as it is, can be very difficult to find time for. If you have found that you are no longer able to manage your domestic cleaning duties and are unable to do a successful cleaning job, don't abandon your household chores, but instead you should call Domestic Cleaning London and offload your dirty work on to us. Gone are the days when your worries get you down because now you can relieve yourself of all of your domestic cleaning tasks and save yourself loads of time too!

Cleaning your home and dealing with all of the household chores are both time consuming and hard work. In today's day and age we are always on the lookout for a way in which we can make life easier, complete tasks quicker and to save us time and hard work too. Although many of the gadgets and technology that can be found in most of our homes can help to relieve us of long, drawn out jobs and strenuous chores, but unfortunately, there are no tools available to save you from all parts of your cleaning.

If you are like so many other people, who consider a lack of time to be a huge issue and reason for why you are falling behind with your household tasks, you are not alone and don't have to suffer either. We are a professional and experienced cleaning company who offer a range of different cleans, one of which is domestic cleaning, which is suitable for all of our clients and every home. We understand that when you have a limited amount of time after a busy, hectic day, the last thing you feel like doing is starting a long, hard cleaning session. Other people, on the other hand, don't even have the time to spend cleaning and therefore are desperate to find an appropriate solution and now you can. It just takes one phone call and you can put an end to your cleaning nightmares and leave it to the experts, who can complete the task in half the time but twice as good. Our domestic cleans are ideal for busy people, but anybody can benefit from our cleaning help. If you have difficulties moving around and find that keeping on top of your household jobs has got too much for you, then it is time to call us up!

We only work with reliable, trustworthy and hard working staff, which explains why our team of cleaners are so efficient and conduct high quality cleans for all of our clients. Each member of our team possesses numerous techniques and a great amount of knowledge in cleaning and knows which products and equipment to use in different situations. Every one of our cleaners have access to our toolkit collection, which contains some of the best quality cleaning products and equipment available. Together, our staff and commercial cleaning equipment will give you an excellent, high standard clean every time!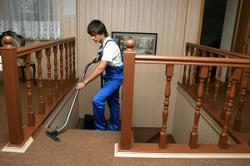 Our domestic cleans include tending to the following tasks:
• Washing up
• Laundry
• Vacuuming
• House cleaning
• And more…

Our team strive to keep our high quality cleans consistent on each visit. As the client, you can choose any time that is best for you for us to conduct a clean for you, as we offer flexible working hours so that we can provide cleaning services at a time that is most convenient for our clients.

Call 020 3397 7819 to speak to Domestic Cleaning London and enjoy having more free time and coming home to a clean house every day.