Enjoy Cooking and Forget the Clean Up With Our Oven Cleaning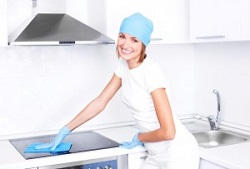 If cleaning your oven wasn't such a nightmare, you would probably be more likely to use your oven to your advantage and cook a range of delicious home cooked meals. You have no doubt saved up tonnes of tasty looking recipe and never had chance to try them out because the thought of the huge clean up job afterwards puts you off and you simply have no time or patience for it. Well, now it's time for you to hire Domestic Cleaning London to clean your domestic or commercial oven for you, allowing you to get your apron and cookbook back out today!

Some ovens can prove very difficult to clean due to the type of oven they are or because of the materials which they are made of. Using the wrong types of cleaning products on your oven can cause damage to the appearance of your oven and even the way in which it works. On top of these issues, decent oven cleaning products are not always cheap and don't do the same job as a professional clean does. During the many years that our company has been active as a successful professional cleaning team, we have learned numerous techniques and skills which can be used to give all of our clients the best results possible. Our oven cleans can save you great amounts of time and stress because with each of our services, we aim to help give you an easier life and give you back some of your much needed time.

Time is one of the common factors for why people are struggling to cope with their household duties, including cleaning and cooking. The main problem for all of this is due to a major lack of time because of busy, hectic lifestyles which stop s from wanting, managing or having the energy to tend to our cleaning tasks. Your domestic or commercial kitchen could reap the benefits of our professional cleaning and our visits don't even have to interfere with your home or working life, thanks to our efficient staff and flexible opening hours. You decide on a time and day that is best for you and we can come in to your home and work place to carry out a thorough clean of your oven. If you would prefer for us to clean when you your commercial or domestic kitchen is empty and not in use, feel free to leave a set of keys with us and we can let ourselves in when it time for us to clean. Many of our clients choose to leave a set of their keys with us in the office so that we are still able to come to clean and our clients don't have to be there to let us in. Your keys are safe with us and will only leave the office at the time when your cleaning is scheduled to be done.


We are happy to say that our cleaning team are experienced and trained in professional cleaning services; including oven cleans and know all about what cleaning agents can be used on each oven. The cleaning products and equipment which we use are completely safe and will not cause any harm to your oven but should only be used by professional cleaners.
On each visit we will successfully remove all traces of dirt, grease and baked on food from your oven and will leave it looking and smelling clean and hygienic once more. Having an immaculately clean commercial oven will also earn you points when kitchen inspectors call round too, which is a definite advantage of course!

Leave your oven cleaning to us. Just call Domestic Cleaning London on 020 3397 7819 and say goodbye to nasty oven cleaning.